We are so excited to let you know about the latest technology for people with sleep apnea. Ultra-portable, compact, seamlessly integrated and superior quality are just a few of the adjectives used to describe the NEW DreamStation Go by Philips. Anchorage Sleep Center is proud to introduce you to a new portable CPAP machine which delivers on all of the features sleep apnea patients desire in a unit. The just released Philips DreamStation Go hits the sweet spot – size and portability with all the functionality necessary for uncompromised results. Here are some reasons the DreamStation Go is expected to be a big hit with individuals in therapy for sleep apnea.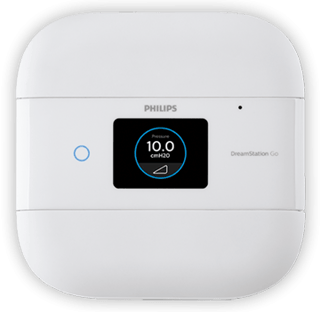 In a recent survey, 65% of CPAP users said device size is the #1 reason they don't take their CPAP every time they travel, breaking the cycle of adherence and exposing themselves to sleep apnea's chronic effects: they stop breathing repeatedly throughout the night, unconsciously transitioning between moments of sleep suffocation and jolts of awakening to resume breathing. This may cause dangerous levels of daytime fatigue and raise the risk of developing other fatal conditions like type 2 diabetes and heart failure.
Traveling with your CPAP has never been easier. The unrivaled DreamStation Go CPAP machine is what you have been waiting for. This post introduces the newest travel CPAP machine – The DreamStation Go.
Smaller size – Ideal for a Travel CPAP
The ultra-portable DreamStation Go was designed to be convenient for any type of travel but can be used effectively as a home-based, every-day CPAP machine providing the best of both worlds.
At 1.8 lbs. and half the size of Philips' current PAP machines, the DreamStation Go is easy to carry, lightweight and simple to set up wherever you go. The optional rechargeable battery backup makes traveling off the grid with your CPAP hassle free.
Designed with traveling in mind, its portability is unmatched. The Go has 1/3 fewer components than any travel machine on the market. Its "swipe and set" touch screen technology is state of the art and simple to use. Traveling is made easy as the two inch high profile and clam shell case pass through security like a smart phone.
The Go comes with a new to market, micro-flexible tubing which packs easy and allows for more mobility while sleeping. Either a washable pollen filter or a replaceable fine filter can be used. The device will display a reminder message to keep you up to date with replacement timing.
For additional convenience, the Go has a USB port to charge your other mobile devices. Also, with the power brick built into the unit, there are no additional heavy components to carry around. The Go plugs directly into a wall socket!
The Go also seamlessly integrates with the intuitively designed rechargeable battery to be used as a travel component or battery backup. With the battery attached and plugged into an outlet, the Go will automatically switch to battery power.
DreamStation Go – No sacrifice in effectiveness
In reviewing Philips' new CPAP machine, Good-Design.com, an Australian Good Design Awards, noted that CPAP users historically have had trouble finding a machine that provides both excellent therapy and lightweight convenience.
"Current solutions either compromise on therapy and comfort or become a burden due to size and number of parts," the review stated. "This design is to remove this tradeoff by offering the most compact solution whilst maintaining the same therapy."
Philips also utilized this principle in the Go's tubing design. The CPAP tubing is highly flexible and the smallest tubing (12mm) ever offered by Philips – it comes in at about half the size of "standard" tubing. Not only is it simple to pack for travel, it also makes it easier to move around while you sleep. The tubing comes with an adapter that fits all CPAP masks. If you use the highly popular Philips DreamWear mask, you can connect directly to the tubing. Additionally, the DreamStation Go supports the use of 15 and 22 mm standard tubing as long as you select the correct tubing choice on the units My Comfort Section of the touchscreen menu.
Perfect for CPAP travel
CPAP stands for continuous positive airway pressure, the key word being "continuous." In the minds of some users, one of the drawbacks CPAP therapy is the standard unit's size. Bulky and inconvenient for travel, many users simply leave them behind for overnight trips or short vacations.
This presents a potentially serious condition for individuals diagnosed with sleep apnea, a condition that causes stoppages of breathing during sleep periods. These stoppages can be brief or threateningly long. With continuous air from their CPAP machine, patients enjoy much more therapeutic – and safe – sleep. The ultra manageable size of the DreamStation Go makes for easy packing and carrying and insures users are far less likely to leave it behind when setting off on a trip. Just as important is there is no power brick. The Go plugs directly into the wall!
For additional convenience, a battery backup is available for your DreamStation Go which can be used in two ways:
Connect the battery to the Go therapy device when you travel somewhere that does not have electrical outlets and the battery will operate in "stand alone mode" to power the machine for several nights depending on your pressure setting.
Connect the battery to the Go therapy device and plug the battery into a wall outlet to ensure that if the power goes out, the battery backup will take over, and there will be no interruption to your therapy.
The battery fully integrates into the Go therapy device. For instance the display on the device will show the amount of charge left on the battery, and if the battery is not used for 5 minutes, it will go into "sleep mode", protecting the battery charge.
The travel case designed for the DreamStation Go is a perfect example of Philips engineering for convenience. The small, hard case opens like a clamshell. In fact, it is not even necessary to open the clam shell when putting the device through airport screening. In fact, it's nearly as easy as sending your smart phone through. There is a separate washable bag to add tubing and mask which can stay tucked into your carry-on or in luggage.
CPAP technology in the DreamStation Go
This 2" slim machine is designed for easy airport screening and features touch-screen technology that's quite intuitive. There are no dials or buttons on this CPAP machine, and it is designed to work much like a smart phone. It records sleep data with every use, and detailed reports are available via the device touchscreen showing leak data, hours used, and average pressures. It connects wirelessly with the Philips DreamMapper mobile app (available on other Philips PAP machines), which gives users progress reports, helps them with meeting and maintaining their goals and offers reminders so they stay consistent with their therapy. Moreover, if you already own a DreamStation, the Go can be added to DreamMapper to provide continuous data coverage.
The Go Auto machine has two modes; CPAP and Auto CPAP. The Auto CPAP features a Ramp (that allows you to start and remain at a lower pressure until sleep).. The patented FLEX setting allows users to adjust the level of air pressure relief that you feel when you exhale during therapy. You can decrease the pressure for easy relief exhaling. There is even an additional pressure setting called Mask Type, allowing users to adjust the level of air pressure relief based on the exact Philips Respironics mask being used. Of course, any mask can be used but pairing it with the ultimate in design, DreamWear nasal mask, will exceed all expectations!
Choosing the right CPAP machine
At Anchorage Sleep Center, we realize it's not always easy for a person who's just starting out with CPAP therapy to sort through all the options. Our experience has taught us that individual needs require specific features in a CPAP machine, although models like Philips' DreamStation Go should fulfill the requirements of a large number of users.
Of course the single most important feature in a CPAP machine is effectiveness in treating the sleep disorder it's designed to treat. Regardless of the amenities that may be included with certain models, the bottom line is how well the unit solves the problem that caused users to buy the machine in the first place. We believe that the DreamStation Go from Respironics will prove to be the most effective, comfortable and travel friendly PAP machine on the market.
If you'd like to know more about this innovative, design award winning CPAP machine, or if you have questions about other sleep apnea machines, masks and accessories, we're always ready to give you the answers you need. (907) 743-0050 Contact Us!
Have travel plans? Check out our Traveling with CPAP blog post.