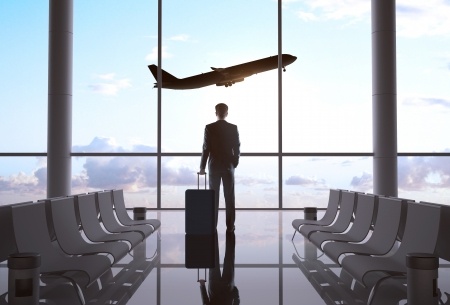 The holiday season has arrived! Not only should you be excited, but there is so much to look forward to. Time with family and friends, shopping and traveling are all many things that we take part in during the holiday season. However, for patients with mild-to-moderate obstructive sleep apnea (OSA), going untreated while traveling can put them in line for serious health consequences, not to mention limiting the enjoyment of their trip. And, let's face it, sleep apnea doesn't take a holiday but here are a few quick tips to make traveling with sleep apnea a little less cumbersome.
Documents:
Keep an information sheet stashed with your CPAP machine. It should include a copy of your prescription, your pressure numbers, preferred mask type and size, contact information for both your sleep specialist and your CPAP provider, health insurance information relevant to your prescription, and a copy of any travel letter required by the FAA or airline to vouch for your CPAP's compliance to travel regulations.
What to Pack:
You will most likely need a 12 foot extension cord in your CPAP carrying case depending on where you will be staying (condo, hotel or someone's home) in case outlets are too far removed to accommodate your CPAP machine. If you need to use your CPAP while traveling by plane, train or boat – you might want to pack a battery operated unit should outlets be unavailable and/or the seats with power outlets are booked.
As with any electronic device, you'll want to remember to pack your adaptors and plugs. New CPAP machines have universal power supplies and can be used internationally, but if your machine is older, you will need to make sure you can plug it in at your destination by way of a special voltage adaptor.
Bring extra mask cushions, as you can never predict when they might fail.
Empty and completely dry your humidifying chamber before storing your device for travel. Fill it up when you arrive and use distilled or deionized water whenever possible.
Another option is to "go unplugged" by renting or buying a back-up battery pack. This way you won't need to plug your device into an outlet in order to use it. It means carrying a little extra equipment, but the convenience may be worth it if you are traveling remotely or where electricity is not reliable.
At the Airport:
It is recommended that you bring your CPAP as a carry on item.
As a result of the Americans with Disabilities Act, the FAA regulations view CPAP machines as medical equipment, and as such are not considered a piece of luggage or a carry-on. Even though airlines limit travelers to one carry-on bag and one personal bag, such as a purse or briefcase, medical equipment does not count as a carry-on. So you are allowed to bring onboard one carry-on bag, one personal bag and your CPAP in its travel case.
Scanning your CPAP: They will need to put your CPAP machine through the scanner. This means you will need to take it out of the case, but the TSA has noted that you can leave the tubing and the mask in the case. The device however will need to be removed.
Protect your CPAP: It is recommended that you bring a large, clear, plastic bag with you to place your CPAP device inside of before being scanned. This prevents germs from other people's belongings from touching your CPAP, in addition to, preventing damage to the CPAP machine.
Explosive Detection: The TSA takes great care to inspect all large mechanical items for explosives. It's very common for a CPAP machine to need this extra step.
Additional Tips:
If you are planning to be away for a while, you might wish to locate CPAP equipment suppliers in your temporary location in the event you need to replace a part.
If your machine does not have automatic altitude adjustment settings, learn how to manually adjust your device for altitude by consulting your machine's user manual or speaking with your CPAP provider.
If you are sleeping in unusual conditions, such as a blow up mattress or couch, make sure your CPAP humidifier chamber is below the level of your head. This prevents any rare chance that water from the reservoir can enter the tubing in large quantities and be blown down into the lungs. This can happen due to a tipped or falling machine or unstable movement in the sleeping space. This may be one of the prime reasons some airlines do not allow humidification while using CPAP in flight.

Traveling with your CPAP may seem like a pain in the neck, but with proper foresight and planning, you can continue your much-needed treatment without compromising your traveling enjoyment.
ANCSLEEP- Good Sleep Starts Here
Need some extra supplies before your travels? CONTACT US TODAY!